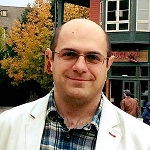 Mehran Kamkarhaghighi is
Research Assistant and
Ph

.

D

.

student in University of Ontario Institute of Technology. He has MSc in Computer Architecture and BSc in Computer Hardware Engineering.


His field of study is Data Science and

research interests include:

Legal Analytic, Text Mining, Data Mining, and Health Games.
H

e published

four books, one

Book

Chapter, 14 Journal papers and 22 conference papers.